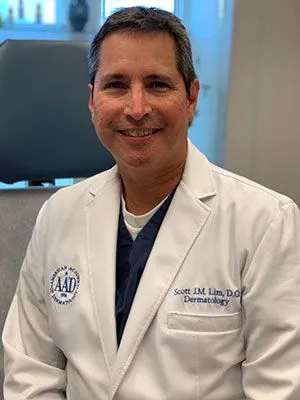 Scott Lim, D.O.
Dr. Lim is native to western Pennsylvania, having been raised in Beaver Falls. He attended Allegheny College where he received his Bachelor of Science (BS) degree in Chemistry in 1982. Following college, he went to the Philadelphia College of Osteopathic Medicine (PCOM) where he received his Doctor of Osteopathic Medicine (DO) degree in 1986. He completed his internship in Philadelphia in addition to three years of specialized training in dermatology at the PCOM-affiliated Dermatology Center. Upon passing his National Board Examination, Dr. Lim became Board Certified in Dermatology by the American Osteopathic Board of Dermatology. He is a Fellow of the American Osteopathic College of Dermatology, Fellow of the American Academy of Dermatology and a member of the Erie County Medical Society, Pennsylvania Medical Society, American Osteopathic College of Dermatology, Pennsylvania Academy of Dermatology & Dermatologic Surgery and the American Society of Dermatologic Surgery.
Following his dermatology training in Philadelphia, he came to Erie, the home-town of his wife, Jessica, to open his solo private practice in 1990. He has enjoyed the autonomy of private practice and has had the honor and privilege of building his practice from scratch. He attributes his success of his busy practice to his genuine love of dermatology, the positive feedback of his patients, and the loving support of his family and staff that allow him to do what he does best. Dr. Lim has volunteered his time educating medical students, interns, and residents since 1990. He is honored to have inspired many to have pursued careers in dermatology, a competitive yet under-served field. He is particularly proud to have his son, Geoffrey Lim, MD, follow his career path to become a dermatologist and further specialize as a Mohs surgeon. He is equally proud to have his daughter, Lauren Senita, CRNP, become a Certified Registered Nurse Practitioner in Dermatology and join him in his private practice. Dr. Lim is an Adjunct Clinical Professor of Dermatology at Lake Erie College of Osteopathic Medicine (LECOM). He has published numerous articles in peer-reviewed journals as well as served as an editor for the Journal of American Osteopathic College of Dermatology. Dr. Lim also invests in the future of dermatology by participating as a member in the Leadership Society for the Dermatology Foundation.
Dr. Lim has served on the Board of the Pennsylvania Academy of Dermatology and Dermatologic Surgery (PAD) and was proud to have been elected as the 2019 President of PAD. Dr. Lim was also presented the 2020 "Dermatologist of the Year" Award by the PAD at its Annual Meeting in November 2020. The PAD's mission is to promote the highest standards of dermatologic care and service in the Commonwealth of Pennsylvania. Together with the PAD, Dr. Lim advocates to preserve the patient-physician relationship, protect patient safety, promote education and research, improve health care delivery, and foster cooperation among dermatologic organizations and its members.
In his free time, Dr. Lim enjoys quiet time with family, fly-fishing, golf, and gardening.
---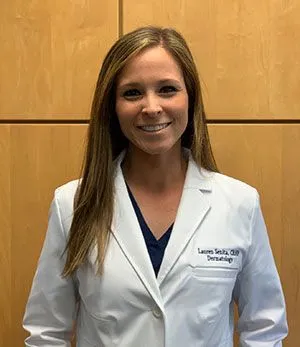 Lauren Senita, CRNP
Daughter of Dr. Lim, Lauren received her Bachelor of Science in Nursing (BSN) degree from Gannon University in 2013. During college, Lauren worked as a patient care assistant at Saint Vincent Hospital. Upon graduation, Lauren spent three years as a Registered Nurse (RN) in the Cardio-Neuro Intensive Care Unit (CNICU) at Saint Vincent Hospital. In 2015, Lauren decided to continue to advance her career by attending Clarion and Edinboro Universities' Master of Science in Nursing - Family Nurse Practitioner Program (MSN-FNP). It was during this time that Lauren discovered she had a passion for dermatology and wanted to follow in her father's footsteps.
While furthering her education, she began working in his office as a RN and has had 6 years of experience in dermatology. She has received extensive medical and surgical training in dermatology during this time period. In 2018, Lauren became a Certified Registered Nurse Practitioner (CRNP). She continues to expand her knowledge through active memberships in the Dermatology Nurses' Association (DNA) and American Academy of Nurse Practitioners (AANP). Like Dr. Lim, she also supports the initiatives of the Pennsylvania Academy of Dermatology and Dermatologic Surgery (PAD). Lauren attends numerous conferences during the year to continue bettering herself for patient care. With over 10 years in the health profession, Lauren is truly following her passion in dermatology and strives to provide quality care.
Lauren is a wife and mother to two boys, Carson and Michael. In her free time, she enjoys time with family and friends, spending time outdoors (hiking, biking, running, hunting, kayaking), yoga, reading, baking, and traveling.